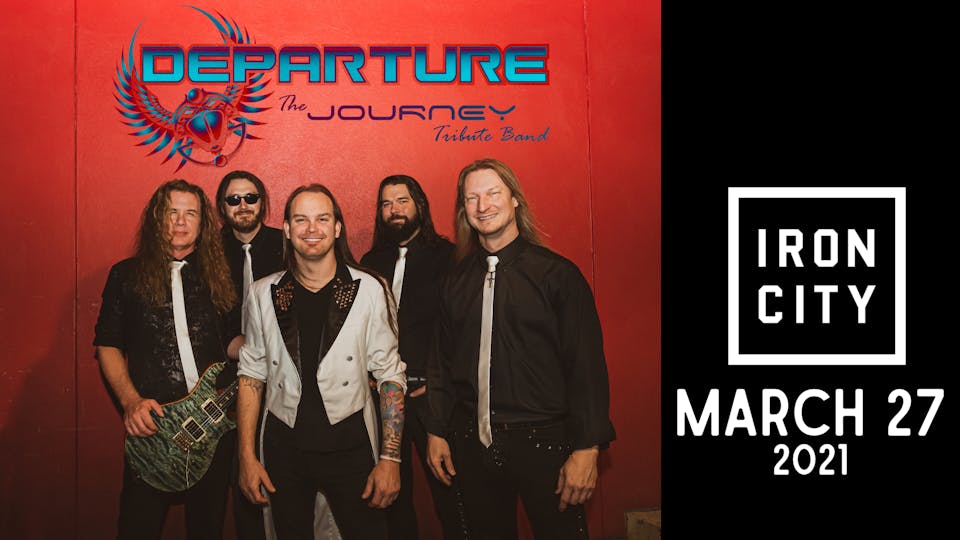 Come see Departure: A Tribute to Journey on 3.27.21 Please practice social distancing! Mask required for entry! Masks required for entry!
After 13 years together, DEPARTURE has become the most respected Journey tribute band in the nation. DEPARTURE replicates the look, sound and feel of the original 80's rock super group. The current lineup has a natural synergy and enthusiasm which has developed into an amazing on-stage chemistry. These veteran musicians pride themselves on giving their audience an incredible high-energy, qualitative stage show from start to finish. Featured lead vocalist, Brian Williams, has an amazing singing voice flawlessly matching Steve Perry's vocal range and movements. DEPARTURE also highlights the early Journey years, when Gregg Rolie was lead singer, featuring Joel Hayes on keys and lead vocals. DEPARTURE's performances are designed for the audience as a two hour concert-styled experience, highlighting all the hit songs that everyone knows and loves as if they are watching a Journey concert from their prime. Their performance is professional and highly engaging for the audience. Everything heard during their performance is live with no pre-recorded tracks used. Performing over one-hundred shows annually, DEPARTURE brings the very best of Journey to audiences of all ages.
COVID-19 SAFETY:
All social distancing rules and regulations must be followed at all times while inside the venue. Patrons who fail to follow safe distancing at the request of staff will be safely removed from the venue; no refunds will be given.
All patrons will be required to wear a mask when entering and moving around the venue.
Sanitizing stations will be available around the venue. Partitions are placed at the bar. Please keep your mask on when ordering.
Bar station and commonly touched areas will be cleaned throughout the show.
We ask that you please maintain a six-foot distance between you and other concert-goers not in your party.
By attending this show, you and your guests voluntarily assume all risks related to exposure to COVID-19 and agree not to hold the artists, the venue; or any of their affiliates, directors, officers, employees, agents liable for any illness or injury.
UPCOMING SHOWS