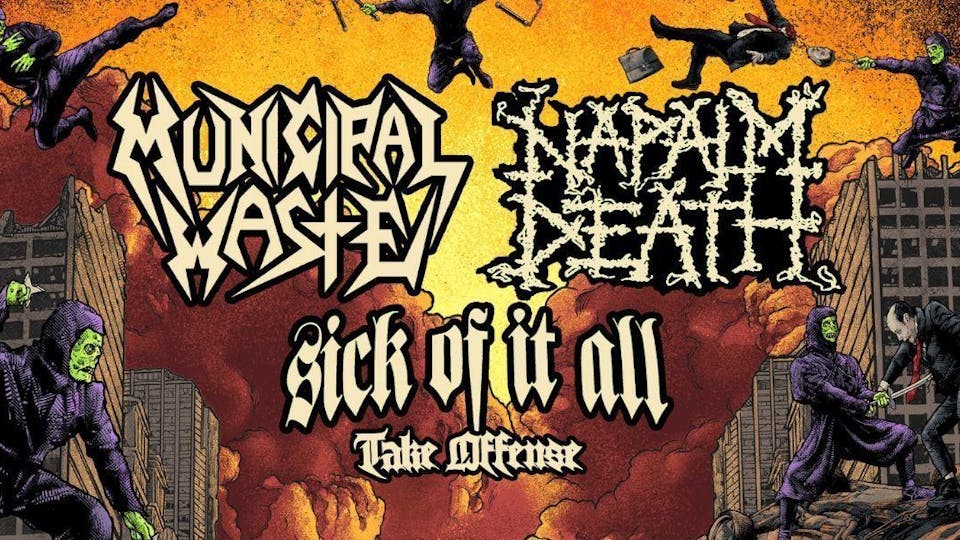 Napalm Death
Municipal Waste
Sick Of It All, Take Offense
$22.00 - $27.00
Sales Ended
Napalm Death, Municipal Waste, Sick Of It All, and Take Offense will be playing Iron City on October 6, 2019
There is a $5 upcharge for this show for patrons under the age of 21.
Facebook | Twitter | MySpace | Bandcamp
Art reflects life. Extreme times demand extreme responses. Silence sucks. Noise is always the answer. And yes, NAPALM DEATH continue to be one of the few bands on this planet that adhere to all these principles and more. For the last three decades, their name as been synonymous with heavy music taken to the extreme – music that confronts, confounds and eviscerates in equal measure.
NAPALM DEATH's enduring impact on the world of sonic savagery began in earnest in the late 80s, when the band's first two albums – 1987's Scum and its 1988 follow-up From Enslavement To Obliteration – refined and redefined the notion of brutality and velocity in the worlds of punk, hardcore and metal. Endorsed by legendary and much-missed DJ John Peel, the Brummie grindcore pioneers were such an exhilarating and yet alien dose of jolting adrenaline that even the mainstream media were forced to prick up their ears and take note. Throw in the fact that NAPALM DEATH were – and still are – driven by a ferocious intelligence and a genuine desire to make the world a better place through the promotion of rational thought and respect for all fellow humans, they stood apart from the often nihilistic and intellectually bankrupt underground metal scene and have remained unique and unerring ever since. While grind purists may point to those earliest records as evidence of the band's significance, it is the tireless and terrorising exploits of the now classic line-up of vocalist Mark 'Barney' Greenway, bassist Shane Embury, guitarist Mitch Harris and drummer Danny Herrera that have cemented NAPALM DEATH's status as extreme music legends. Over the last 20 years, the band have released a relentless slew of groundbreaking and fearless albums and other releases that have consistently punched holes in the heavy music world's perimeter fence, espousing an indestructible credo of creativity and lyrical fire along the way.
However, unlike the vast majority of so-called veteran bands, NAPALM DEATH seem to be gaining momentum and focus as their story continues into its fourth decade. Albums like Smear Campaign (2006), Time Waits For No Slave (2009) and Utilitarian (2012) have proved beyond doubt that while their creators remain firmly at the forefront of the grindcore scene, they are also increasingly capable of expanding the boundaries of their own sound while exhibiting an undying passion for incorporating the most unimaginably intense and perverse fresh elements into their otherwise remorselessly fast and furious blueprint. And now, with the release of their fifteenth studio album, Apex Predator – Easy Meat, the undisputed Gods of Grind are poised to shatter preconceptions and redefine what it means to be truly extreme all over again.
"I guess the word to use is thrusting! It really goes for the throat!" says Barney. "People probably look at NAPALM and think 'Fuck me, is that band still around?' There's a natural tendency as bands go on, that people on the outside say 'Oh, they're still making albums but they must be a bit humdrum now…' and you know what? That's something that I hope no one ever says about us. I find I don't want something more refined or less extreme, I want something more extreme. Sometimes we'll be in the studio and someone will say 'Isn't that a bit noisy?' and I'll say 'Fucking hell, what do you mean? Turn it up! Let's go and throw a microphone through the speaker!' So that's our attitude. The age of the band should never come into it. Just because you're older, it doesn't mean you lose the urge to make something challenging… or even annoying! Some of the sounds that NAPALM use are deliberately designed to annoy people, no question!"
A sprawling and frequently bewildering onslaught of fervently left-field and fiendishly inventive extremity, Apex Predator – Easy Meat takes everything that NAPALM DEATH have learned, absorbed and harnessed over the last 30 years and twists the resultant maelstrom into an unfathomable, tooth-shattering squall of ferocity. There is plenty of the hyperspeed grind that fans have long become accustomed to, but the more artful and dissonant elements that have long lurked within the band's sound have been brought violently the fore like never before. As influenced by Swans, Killing Joke and Throbbing Gristle as they are by Siege, Celtic Frost and Discharge, these new songs add a wild array of new textures and tones to NAPALM DEATH's sonic realm – all mixed to abominable perfection by long-time studio comrade Russ Russell - as slow-motion psychedelic sludge, barbaric post- industrial skree and flat-out quasi-electronic antagonism collide around the band's trademark barrage of warped riffing and throat-flaying roars.
"The title track, it's like Public Image Limited times ten!" says Barney. "It's really extreme. There's a lot of those influences on the album – Public Image, Killing Joke, Swans… all that kind of stuff. We were starting to do it on the last album, mixing it into the fast stuff, but this time we've mixed it in even more. Some of the chord stuff on there is pretty fucking mad. It was intentional. Sonically, we wanted it to be even more extreme. It's quite simple. We're not fucking around! Therein comes the paradox. You've got the really nasty, horrible, violent sound and then the really humane lyrics. I love that paradox."
Once again proclaiming their refusal to stand by while the world plummets rapidly down the shit-chute, the new NAPALM DEATH album is plainly one of the most lyrically incisive and enriching records of the band's career to date. Inspired by real world events and the never-ending cycle of predatory capitalism that causes so much poverty, misery and death around the globe, songs like Dear Slum Landlord…, Metaphorically Screw You and Hierarchies are as uncompromising and vital on a conceptual level as they are in musical terms. As ever, Barney's humanistic worldview blazes brightly throughout – a positive voice in a wilderness of apathy and hate.
"I see the world as a see-saw," he explains. "There are countries in the world that relentlessly consume and then there are other countries that are the fucking dumping ground, and the common perception is that they have less value. I don't think that way but it's just a natural way to think for a lot of people. The event that sparked it, and even this passed a lot of people by, was the building that collapsed in Bangladesh last year, at a textile manufacturers. It was the dodgiest situation ever. The building was already unsafe, there were huge cracks in the wall and they'd built extra storage on top, extra workshops, because the greedy bosses wanted to increase their output, and then the whole building collapses. These clothing companies, in the main, it was crocodile tears and nothing's happened and to me that's fucking shameful. People think that slavery is a thing of the past, but there are slave conditions all over the world, where people are working under threat of death. Slavery is far from gone. I know that it's something I can't change on my own, although I try to make the correct choices in my life, but I felt I wanted to raise the point a little bit and hopefully open people's eyes."
Adorned with some of the most gut-wrenching and distinctive artwork to grace an album in decades, Apex Predator – Easy Meat may well be NAPALM DEATH's definitive statement, both on the state of the world and the limitless possibilities of extreme music. Right now, there is no other band with the brains and balls to make music this original, intelligent or downright terrifying. It's 2014, the world is fucked and we need NAPALM DEATH more than ever.
Facebook | Instagram | MySpace | Bandcamp
So what happens when a band's riotous reputation catches up with them? Precautionary measures are taken and they - of course - get banished, only this time, it's into space! When the greedy ship captain hordes the food rations, the crew kicks into survival mode, commit mutiny, and devour their captain skewing the story into a horrific yet fantastic cannibalistic voyage into space that cult movies are made of.
The Fatal Feast, the fifth studio album by Richmond, Virginia's cross-over kings MUNICIPAL WASTE, not only ponders the type of moral dilemma faced in the title track but also tackles earthly issues that consistently plague humanity ("Covered In Sick/The Barfer," "Repossession," "Standards And Practices," "12 Step Program," "Crushing Chest Wound"). These 37 minutes of new music consolidate the best of everything the band's got to offer: their utmost respect for headbang-inducing riffs, their trademarked aggression, their tongue-in-cheek sense of humor, and their talent for extracting meaning out of the absurd.
Rising from the squalor of a cursed punk house for their live debut at a New Year's Eve keg party welcoming in 2001, founding members Ryan Waste and Tony Foresta quickly embraced a DYI ethic to spread the word about their band and graduated to booking shows out-of-state and even in Mexico. After a self-titled EP and the Waste 'Em All debut album in 2003, bassist Phil "LandPhil" Hall and former Melt Banana drummer Dave Witte were ushered into the fold. This line-up went on to record three full-length albums for Earache Records (2005's Hazardous Mutation, 2007's The Art Of Partying, and 2009's Massive Aggressive), earning such accolades throughout their career as "MUNICIPAL WASTE do it so well that any track could squeeze comfortably between D.R.I. and Gang Green on a mix tape" from Spin Magazine, "No band sound more authentic," from Alternative Press, "A gold standard" from Decibel magazine , and "Undeniably the best at what they do," from Outburn magazine. Visually, the band also delivered, as evidenced by the success of the devil-may-care and often outrageous attitude of their videos which have all become fan-chanted anthems at their live shows. The fact is, no one could argue against MUNICIPAL WASTE's reputation as the ultimate feel-good party band.
Dedicated to keeping the spirit of the 1980's cross-over scene alive, it was with their uncontrollable mirth and succinct songs that lead MUNICIPAL WASTE to reap the rewards of their hard work. By the time they signed with new label Nuclear Blast in 2011, they had proven themselves as die-hard road warriors would could tour & perform with bands outside their genre such as Suicidal Tendencies, The Casualties, 7 Seconds, Circle Jerks, Sick Of It All, GWAR, Lamb Of God, Children Of Bodom, and At The Gates and win over their crowds. Here they are 11 years later and their rabid fan base continues to expand.
With artwork by Justin Osbourn of Slasher Design, 2012's The Fatal Feast is the first MUNICIPAL WASTE album to feature contributions from invited guests. Steve Moore of Zombi penned the intro to the title track and the spacey "Waste In Space," John Connelly of Nuclear Assault's vocals grace "Unholy Abductor," and singer Tim Barry of Richmond punk legends Avail jumps in on "Standards And Practices."
For fans of metal, punk, and hardcore, MUNICIPAL WASTE's The Fatal Feast is already being hailed as "an interstellar thrashterpiece" by Decibel magazine. Space may be a noiseless vacuum for amateurs who don't travel with their own P.A. system, but seasoned veterans of extreme situations MUNICIPAL WASTE always know better than to leave home without it!
The maximum number of tickets available per purchase for each event is the maximum number permitted per customer. Ticketfly and Iron City reserve the right to cancel any orders in excess of the stated ticket limit.
Any tickets suspected of being purchased for the purpose of reselling can be cancelled at the discretion of Iron City/Ticketfly.
For Will Call pick up, name on order must match the credit card used for purchase & photo ID must be presented at box office to obtain tickets. No exceptions.
Set times and support acts subject to change. Sales Tax Included in Ticket Price.
UPCOMING SHOWS