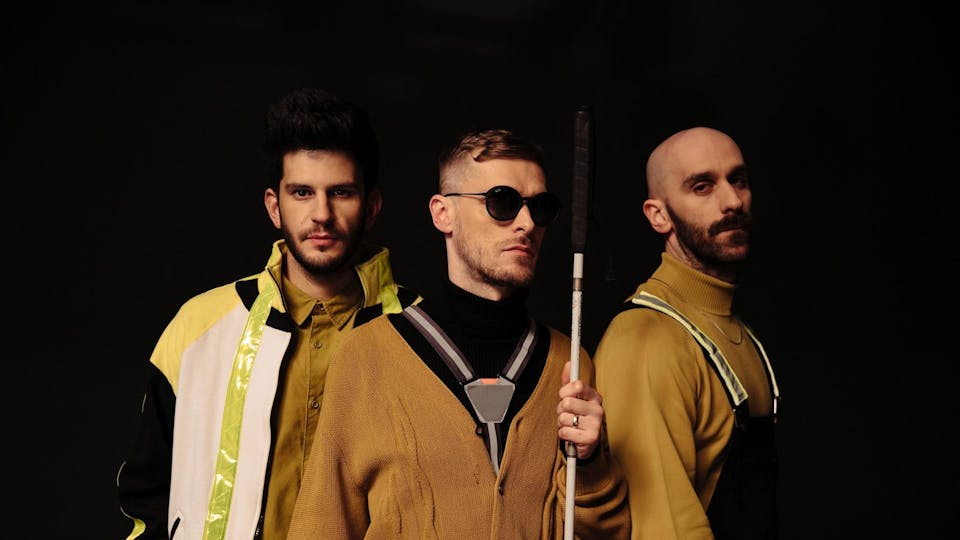 X Ambassadors with Bear Hands, and LPX will be playing Iron City on October 20, 2019
Each pair of tickets comes with one (1) physical CD of X Ambassador's forthcoming new album "ORION." You will receive instructions on how to redeem within 7 business days. US/CAN purchasers only. Offer not valid for Resale tickets.
There is a $5 upcharge for this show for patrons under the age of 21.
KIDinaKORNER/Interscope band X Ambassadors' debut album, "VHS," reflected on the events that shaped the lives of lead vocalist and lyricist Sam Harris and his older brother, keyboardist Casey Harris, growing up in Ithaca, New York. The gold-certified album, which Rolling Stone called "bombastic rock that's as stomping as it is diaristic, leavened by big-tent pop hooks and a hint of hip-hop swagger," debuted at No. 7 on Billboard's Top 200 chart and spawned the platinum-selling "Renegades," which spent 12 consecutive weeks at No. 1 on the Alternative chart, and the double-platinum "Unsteady." The success of "VHS" sent X Ambassadors on a nearly two-year touring odyssey that found them winning over fans around the world and performing at the Lollapalooza, Bonnaroo, Life Is Beautiful and Shaky Knees festivals, among others, and establishing themselves as a world-class rock band. X Ambassadors released the impassioned "Ahead of Myself" last fall followed by "Joyful" and "Don't Stay" in early 2018 before embarking on their JOYFUL headline tour. The band returned to Ithaca for the second annual Cayuga Sound Festival this past September. X Ambassadors is currently working on their sophomore album.
Facebook | Instagram | Twitter | MySpace
Bear Hands' new song, "Back Seat Driver (Spirit Guide)" finds the band and its lead singer, Dylan Rau, stretching out, maturing, and exploring new sonic territory. The track is dynamic and propulsive, butalso reflective and measured, cautious of the impulse to move forward, driven only by momentum. "The song is about free will and finding yourself doing things that you don't feel you are in control of," says Rau, "being drawn to something and not really knowing why."Musically, the song is inspired by influences as disparate as M83 and The Who. "I really love the arpeggiated synth work of Pete Townsend," Rau admits. While writing and recording "Back Seat Driver (Spirit Guide)" Chris Chu of POP ETC, an accomplished songwriter and producer in his own right, served as a spirit guide of sorts. "Chris Chu produced the track and he wrote some instrumentals on it. He wrote guitar parts and helped with the arrangements. Really editing and providing outsider perspective. That really helps."Founded in NYC, Bear Hands quickly made a name for themselves and paid their dues by playing the boroughs many bars and sweaty DIY venues as well as touring with acts including Foals, Cage The Elephant, and GZA.
Facebook | Instagram | Twitter
LPXis the New York based solo alternative project of Lizzy Plapinger, co-founder of boutique record labelNeon Gold Records(Christine and the Queens,Haim,Charli XCX, Mø,Tove Lo,Marina and the Diamonds) and lead singer of alt pop darlingsMS MR. LPX lives at the apex of where rock and pop collide reveling in the power of the force of their collision. A fully independent artist (self funded, self released, self realized) she's released two EPs, had 3 songs go #1 at triple J radio in Australia (includingher collaboration withWHATSONOT"Better"), supportedHaimandMøon their respective North American tours, been synced in Greys Anatomy, curated an all female festival in DC withMaggie Rogersand All Things Go called Fall Classic, and most recently toured Australia as part of Falls Festival, among many other accolades.Junk of the Heartis her second EP release (March 2019) and includes singles "Might Not Make it Home" and "Give Up The Ghost." LPX has been described as "a modern New York City sound if there ever was."
The maximum number of tickets available per purchase for each event is the maximum number permitted per customer. Ticketfly and Iron City reserve the right to cancel any orders in excess of the stated ticket limit.
Any tickets suspected of being purchased for the purpose of reselling can be cancelled at the discretion of Iron City/Ticketfly.
For Will Call pick up, name on order must match the credit card used for purchase & photo ID must be presented at box office to obtain tickets. No exceptions.
Set times and support acts subject to change. Sales Tax Included in Ticket Price.
UPCOMING SHOWS